Middle & High School Return to Building Schedule
Posted January 13, 2021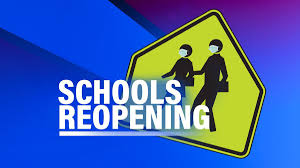 Hello KCAA Community!
I have waited to send this as we know we have had many last minute changes in the last 10 months. It does appear we will be moving forward with our in-person learning for secondary (grades 6-12) students who have selected that option. Since the beginning of this semester, we have been in our hybrid model which will allow us, if necessary, to go back to remote without too many complications. Here are just a few reminders for next week:
There is no school Monday 1/18 for the MLK holiday.
There are no classes on Tuesday 1/19 as teachers prepare for in-person students as well as reviewing all safety and health protocols.
On Wednesday, 1/20, we will have only our MS (grades 6,7,8) who attend our WHITE day synchronous classes in the building. They have been using this schedule since the beginning of the semester. 
On Thursday, 1/21, we will have only our MS (grades 6,7,8) who attend our BLUE day synchronous schedule. 
On Friday, 1/22, all classes will be remote but synchronous (live with teacher). 
All HS students will remain remote until the following week. 
Please remind your students who do attend in person:
You must bring your Chromebook to school everyday you are in attendance. It must be fully charged (please create a routine or reminder every night to "plug in your Chromebook').
You will have to carry all items with you everyday. There will be no use of lockers until next year at the earliest. Students will be allowed to have their backpacks in class.
Students will need a notebook, a pen and a pencil.
Students should have their own headphones or earbuds.
Students will not be able to share any items.
I hope that we will be able to start next year normally but we must maintain all health and safety guidelines in school while the pandemic is still a major health threat. 

Thank you, 
Peter Castillo
Principal
Kunsmiller Creative Arts Academy