Javiera Reyes
Elementary Assistant Principal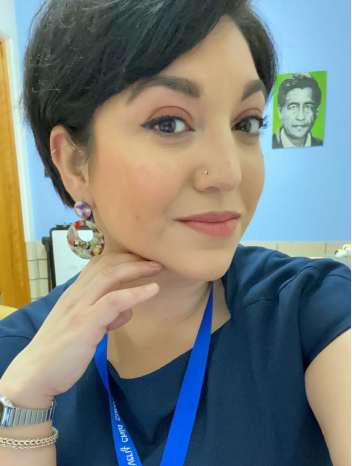 Email:
javiera_villegas@dpsk12.net
Phone:
720 424-0181
Department(s):
Administration
Javiera Paz Ihrig Reyes (Javi for short and Ms. Reyes to the kids) is no stranger to the South West of Denver and spent 9 years at Gust Elementary School, where she served as an ELA-S Teacher and Senior Team Lead for 5 years. She later moved to Ellis Elementary and completed the Ritchie Educational Leadership and Policy Studies Program as a leadership intern under Principal Jamie Roybal. 
She earned a Bachelor of Arts at The George Washington University and a Master of Arts in Curriculum and Instruction at DU in 2013 as a Denver Teacher Resident. A lifelong learner, she will begin the University of Denver's Doctor of Philosophy in Educational Leadership and Policy Studies Program in the fall.  
Javi is originally from Viña Del Mar, Chile, and came to the United States at 6 years old. She is Mestiza, of mixed Spanish and Mapuche Indigenous roots.  She is fluent in Spanish and English.
In her free time, Javi volunteers as a costumed character with various charity organizations in Colorado.  She plays guitar and recently became the proud owner of a Fender Mustang electric guitar. Javi is known to dabble in the arts and loves oil, acrylic, and watercolor painting. She was the concept artist for a published board game called CATtitude!, which is currently in its second edition. 
Javi lives in Denver, Colorado, with her husband, Ted, and her two cats, River and Haddie, who inspired their board game.
She is thrilled to serve the Kunsmiller community as our next Elementary School assistant principal
Javiera Paz Ihrig Reyes (Javi para abreviar y Ms. Reyes para los niños) no es ajena al suroeste de Denver y pasó 9 años en la escuela primaria Gust, donde se desempeñó como maestra de ELA-S y de líder durante 5 años. Más tarde se mudó a Ellis Elementary adonde y completó el Programa de Estudios de Políticas y Liderazgo Educativo de Ritchie, entrenada bajo la directora Jamie Roybal.
Ella adquirió la Licenciatura en Artes en la Universidad George Washington y obtuvo su Maestría en Artes en Currículo e Instrucción de la Universidad de Denver en 2013 en el Programa de Maestros de Residencia. Una aprendiz de por vida, comenzará el Programa de Doctorado en Filosofía en Liderazgo Educativo y Estudios de Políticas de DU en el otoño.
Javi es originalmente de Viña Del Mar, Chile, y vino a los Estados Unidos a los 6 años. Ella es mestiza, de raíces Españolas e indígenas Mapuches. Habla español e inglés con fluidez.
En su tiempo libre, Javi sirve de voluntaria como un personaje disfrazado con varias organizaciones de caridad en Colorado.Toca la guitarra y recientemente se convirtió en la orgullosa propietaria de una guitarra eléctrica Fender Mustang. Javi practica las artes y ama la pintura al óleo, acrílico y acuarela. Fue la artista conceptual de un juego de mesa llamado CATtitude!, el cual actualmente está en su segunda edición de publicación.
Javi vive en Denver, Colorado, con su esposo Ted y sus dos gatas, River y Haddie, quienes inspiraron su juego de mesa.
Está encantada de servir a la comunidad de Kunsmiller como nuestra próxima subdirectora de la escuela primaria